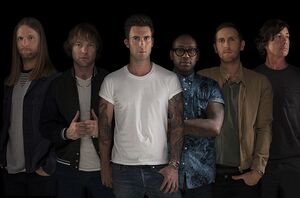 Maroon 5 is an American pop rock band that originated in Los Angeles, California. The group was formed in 1994 as Kara's Flowers while its members were still in high school and originally consisted of Adam Levine (lead vocals, guitar), Jesse Carmichael (guitar, backing vocals) Mickey Madden (bass guitar) and Ryan Dusick (drums). The band was named after a girl the group had a crush on. Kara's Flowers signed to Reprise Records and released an album, The Fourth World, in 1997. After a tepid response to the album, the band parted ways with the record label and the members attended college.

In 2001, the band regrouped, with guitarist James Valentine added to the line-up, and pursued a new direction under the name Maroon 5. At this point, Carmichael switched to playing keyboards, which has since become his main instrument in the band. After these changes, Maroon 5 signed with Octone Records and released their debut album, Songs About Jane, in June 2002. The album's lead single "Harder to Breathe", released in July 2002 was received heavy airplay, which helped the album to debut at number six on the Billboard 200 chart. The band won the Grammy Award for Best New Artist in 2005. For the next few years, they toured extensively worldwide in support of Songs About Jane and produced two live recordings: 2004's 1.22.03.Acoustic and 2005's Live – Friday the 13th. In 2006, Dusick officially left Maroon 5 after suffering from serious wrist and shoulder injuries and was replaced by Matt Flynn. The band then recorded their second album, It Won't Be Soon Before Long and released it in May 2007. The album reached number one on the US Billboard 200 chart and the lead single, "Makes Me Wonder", became the band's first number-one single on the Billboard Hot 100.

In September 2010, Maroon 5 released their third studio album Hands All Over, which was re-released in 2011 to include the single "Moves Like Jagger". While the original version of the album received mixed reviews, "Moves Like Jagger" reached the number one position on the Billboard Hot 100. The band released their fourth album, Overexposed, on June 26, 2012. All four singles of the album were highly successful on the Billboard Hot 100, including second single "One More Night", which reached number one. In 2014, the band signed with Interscope Records and released their fifth studio album, V, with the very-first line-up of six official band members, as keyboardist and backing vocalist PJ Morton became an official member in 2012. The album debuted atop the Billboard 200. Maroon 5 have sold more than 15 million albums in the United States and 27 million albums worldwide.

"This Summer's Gonna Hurt Like a Motherfucker" (also titled "This Summer's Gonna Hurt") is a song performed by American pop rock band Maroon 5. The song is set to be released for radio airplay on May 19, 2015 through 222 Records and Interscope Records. The single will proceed the reissue of the band's fifth studio album, V (2014), which is set to be re-released during the summer of 2015.

On May 6, 2015, it was rumored that Maroon 5 were to release a brand new single titled "This Summer's Gonna Hurt" on May 26, 2015 to pop radio airplay. The following day, it was confirmed by Billboard magazine in an article stating that "This Summer's Gonna Hurt" will be released ahead of the band's upcoming reissue of their album V (2014) and will follow-up the band's single "Sugar." On May 11, 2015, the band officially announced that the single, whose full title is "This Summer's Gonna Hurt Like a Motherfucker", would be released on May 15 and would premiere on NBC's reality television show The Voice on May 19, 2015.

A music video for "This Summer's Gonna Hurt Like a Motherfucker" was filmed in late April. A number of posts on Instagram from members of the band display a stage in a desert setting.


Loading RSS data...

What is your favorite single from V so far?

Create blog post
Blogs
Maroon 5 is my favourite band of all times.  There music is so good, and Adam Levine's voice is so unique, and i love that.  Maroon 5 has got to be one of the best bands, really. I am a HUGE fan of t…

Read more >

Good news for Maroon 5 fans — despite previous speculation that "This Summer's Gonna Hurt Like a Motherfucker" would be released as the final single from the band's fifth studio album, V, it appears …

Read more >
See more >
Community content is available under
CC-BY-SA
unless otherwise noted.